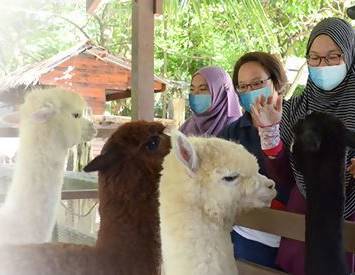 HSBC Credit Card - Farm in the City - 40% OFF*
Enjoy 40% off normal rate with your HSBC/HSBC Amanah Visa Credit or Debit Card/-i.
Merchant Terms & Conditions:1.Eureka Farm Sdn Bhd ("Merchant") is the sole provider of all goods and/or services under this offer and solely responsible for this offer. Offer details as shown are based on information provided by the Merchant.2. Merchant reserves the right to update or modify any of the terms and conditions at any time. In the event of any updates or changes being made, the revised terms and conditions will be posted on Merchant's website at least 1 week before they take effect.3. Payment must be made with a valid Credit/Debit/Prepaid Visa card to enjoy the privilege. Privilege is valid for Visa cards issued in Malaysia and outside of Malaysia.4. One (1) cardholder may only redeem a maximum of two (2) discount tickets.5. Offer is only valid for walk-ins and not applicable for online purchase.6. Not valid with any ongoing promotions, packages or MyKad's discount.7. Not exchangeable for cash/sale.8. Children must be accompanied by one (1) paying adult aged 18 and above in the park.9. Free entry with children height below 90cm accompanied by a paying adult.10. It is a condition of entry that visitor agrees to be bound by all rules & regulations displayed at Farm in the City.11. Outside food are strictly not allowed.12. Farm in The City reserves the right to refuse entry or evict a person from the park at the discretion management.13. No refunds will be entertained due to inclement weather, natural disaster and/or force majeure.14. The owner and The Management of Farm in The City shall under no circumstances be held liable for any injuries, death and or loss or damage to property however caused.Visa Terms & Conditions:1. To enjoy the privilege, payment must be made with valid VisaCredit/Debit/Prepaid card issued in Malaysia and outside of Malaysia during the stated campaign period.2. Promotion is subject to change. Promotion may alter or extended with notification on respective merchant's website.3. Other terms and conditions apply.
Promotion Period : 01-Mar-2022 till 28-Feb-2023
Posted on 14-Jun-2022