RHB World Master Credit Card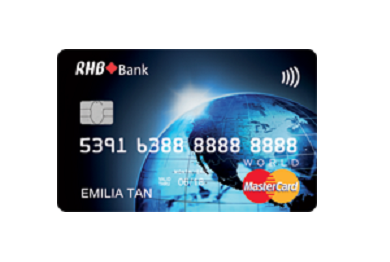 RHB World Master Credit Card
Cash Rebates

Earn up to 6% Cash Back
Cash Back spend on Travel, Petrol, Dining and Overseas transactions
Cash Back is capped by category, total Cash Back capped at RM220 per month.
Cash Back tier is based on monthly total spend locally and overseas respectively.
Click the Read More Button below to find out the cash back tier table.
Lounge Privileges
5x complimentary access to lounges in Malaysia in a calendar year
Golf Privileges
Complimentary Green Fee
Kota Permai Golf & Country Club Selangor, Malaysia
Sungai Long Golf & Country Club Selangor, Malaysia
Pulai Springs Resort Johor, Malaysia
Penang Golf Club Penang, Malaysia
Palm Garden Golf Club Selangor, Malaysia
Glenmarie Golf & Country Club Selangor, Malaysia
Eligibility & Requirements
Minimum income of RM 100, 000 per annum
Age 21 and above
Annual Fee
Cash Back Tier Table
Tier
Domestic Spend
Overseas Spend
Spend from
TRAVEL
PETROL
DINING
OTHERS
Spend from
OVERSEAS
1
RM1,000 – RM2,499
1%
1%
1%
0.20%
RM1,000 – RM2,499
0.5%
2
RM2,500 – RM3,499
2%
2%
2%
0.20%
RM2,500 – RM3,499
1%
3
RM3,500 & above
6%
6%
6%
0.20%
RM3,500 & above
2%
Cap
RM35
RM35
RM35
RM15
Cap
RM100
Posted on 09-Apr-2016