UOB Preferred Platinum Card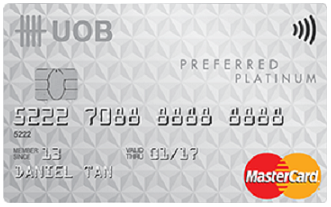 UOB Preferred Platinum Card
Rewards Point
6x complimentary access to Plaza Premium Lounge
3x online & overseas purchases and duty free shopping
Spend a minimum of RM300 in dining and/groceries per month on weekend to get the 5% cash back. Promotion valid until 26-Jun-2016.
Eligibility & Requirements
Minimum income of RM 48, 000 per annum
Age 21 and above
Annual Fee
Waived for first year.
Principle card annual fee RM 209.88.
Posted on 28-Mar-2016