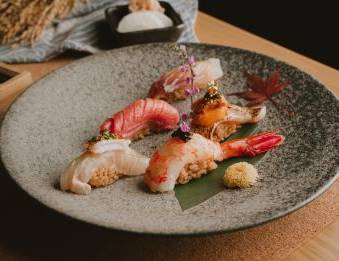 HSBC Credit Card - Sushi Takumi - Japanese Omakase Meal at RM399*
• Offer I : Get a Japanese Omakase Course Meal at RM399 only with HSBC Bank Debit/Credit Card
• Offer II : Get a Japanese Omakase Course Meal at RM599 only with HSBC Bank Debit/Credit Card
Offers are not valid with any other on-going promotions, offers, loyalty programs, vouchers and/or discounts, except for simultaneous use of the offers herein. 
Payment must be made with HSBC Bank Debit/Credit Card. 
Offers are not valid on the eve of Public Holidays, on Public Holidays and special occasions (Please contact Sushi Takumi to enquire). 
Offers are valid for dine-in only, HSBC Bank Debit/Credit Card must be state/present before ordering.
Prior reservation of at least two (2) days in advance is required and subject to availability.
For reservation and offer information, please contact Sushi Takumi at 018-356 6725.
Sushi Takumi and HSBC Bank reserves the right to amend these terms and conditions or discontinue/withdraw this offer, with three (3) days' prior notice. 
These offers may be subject to applicable tax, if any.
Splitting of bills is not allowed.
Offers are valid throughout operating hours.
Sushi Takumi Terms & Conditions apply. 
Offer I :Japanese Course Meal Hana RM399 consists of: Zensai 前菜, Nimono 煮物,Sushi 2 Pieces 握り寿司, Sashimi 2 Kinds 刺身, Tōshi Zakana 通し肴,Chawanmushi 茶碗蒸し, Sushi 3 Pieces 握り寿司, Soup Dessert
Offer II : Japanese Course Meal Momiji RM599 consists of: Sakidzuke 先付, Wan-mono 椀物, Sushi 3 Pieces 握り寿司, Sashimi 3Kinds 刺身, Zensai 前菜, Yakimono 焼き物, Agemono 揚げ物, Sushi 3 Pieces 握り寿司, Soup Dessert
Promotion Period : 15-Jun-2023 till 30-Jun-2024
Posted on 06-Jun-2023