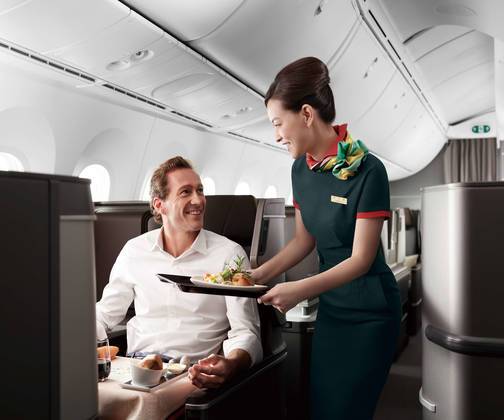 HSBC Credit Card - Eva Airways Corporation - Up to 7% OFF*
Offer I : Enjoy 7%OFF* Business Class airfare
Offer II : Enjoy 5% OFF* Premium Economy and Economy Class airfare
*Promo code : "HSBC Cardholder"
1. Offers are not valid with any other on-going promotions, offers, loyalty programs, vouchers and/or discounts. 
2. These offers are available to all HSBC Bank/HSBC Amanah Debit/Credit Card/-i issued in Malaysia and payment must be made with HSBC Bank/HSBC Amanah Debit/Credit Card/-i.
3. Offers are valid from 1 February 2023 to 31 December 2023 via https://www.evaair.com/en-my/index.html
4. To enjoy the offers, HSBC Bank/HSBC Amanah cardholder need to select "HSBC Cardholder" upon payment check out.
5. Offers are for bookings with Kuala Lumpur as Departure City and Taiwan (Taipei), America (Los Angeles/ San Francisco/ Seattle/ New York/ Houston/ Chicago), Canada (Vancouver/Toronto) or Europe (London/Vienna/ Amsterdam/ Paris/ Milan/ Munich) as Destination City. 
6. Offers applies to airfare and does not apply to fuel surcharges, government and airport taxes, and/or any other surcharges that are applicable.
7. Offers cannot be used on multi-city/stopover bookings and/or in conjunction with any other discounts or promotional campaigns.
8. Eva Airways and HSBC shall not at any time be responsible or held liable for any loss, damage or harm suffered or incurrent by or in connection with the promotion.
9. Offers is not applicable for Infant/Children fare.
10. No change of dates/refunds or cancellation after tickets have been issued.
11. Should the ticket holders not turn up to board the flight on the booked flight departure day, no refund will be provided.
12. The discounted flight ticket is not exchangeable for cash, non-transferable and subject to availability.
13. All flight tickets are for return-trip basis to each selected destination, departing from KLIA.
14. These Offers may be subject to applicable tax, if any. 
15. Eva Airways Terms & Conditions apply. *
Promotion Period : 01-Feb-2023 till 31-Dec-2023
Posted on 02-Feb-2023