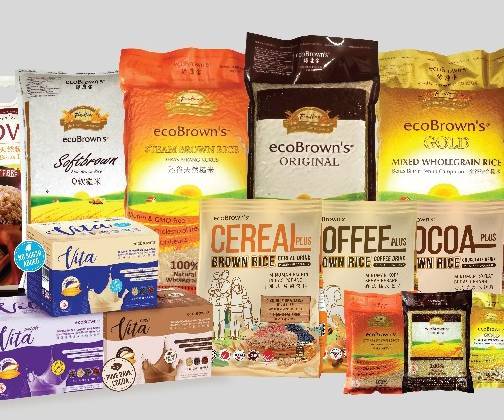 HSBC Credit Card - Eco Brown - Complimentary 2kg Steamed Brown Rice
• Get Complimentary 2kg Steamed Brown Rice with minimum purchase of three (3) ecoBrown VITA series (Origina/Purple/Cocoa) and Chocolate series (Energy/Low Sugar) in a single transaction at ecoBrown's eshop via https://shop.ecobrown.com/ 
*(Promo code : HSBC2KG)
• Offer is not valid with any other promotions, offers, discounts, vouchers and/or loyalty programs
• Payment must be made with HSBC/HSBC Amanah Debit/Credit Card/-i.  
• Offer only valid for products listed on ecoBrown eshop and available from 01 January 2022 (12.00am) till 30 June 2022 (11.59pm) Malaysia Time.
• To enjoy this offer, please key in promo code HSBC2KG upon check out at ecoBrown's eshop via https://shop.ecobrown.com/ 
• Multiple usage of the promo code across multiple transactions and/or elements of fraud will lead to cancellation of the order(s). 
• The promo code and the Complimentary 2kg Steamed Brown not transferable or exchangeable for cash or other products. 
• Each HSBC Bank/HSBC Amanah Debit/Credit Card/-i cardholder is entitled to one (1) Complimentary of 2kg Steamed Brown Rice throughout offer period.
• ecoBrown reserves the right to replace the Complimentary 2kg Steamed Brown with any items/services of equivalent value at any time as determined by ecoBrown. 
• HSBC Bank/HSBC Amanah is not the supplier of goods and service(s) and makes no representation as to the quality of the goods and service(s) provided. Any disputes on product quality, or services from a merchant or retailer should be resolved directly between the cardholder and the merchant or retailer.
• Offer is exclusive of shipping/delivery charges. 
• All products sold are strictly non returnable and non refundable except for wrong shipping items.
• This Offer may be subject to applicable tax, if any.
• ecoBrown Terms & Conditions apply.
Promotion Period : 01-Jan-2022 till 30-Jun-2022
Posted on 12-Jan-2022